Crimes rates – and particularly homicide rates – appear to be rising in other big U.S. cities in 2016, but the homicide rate in New York City this year could set a record – a record low, that is. Serious crimes in almost all categories are declining across the five boroughs, and the number of serious crimes in the city could drop below 100,000 for the year – an important benchmark for law enforcement authorities.
According to Newsday, there were 285 homicides in New York City this year through October 30, compared to 300 homicides at the same time last year. The record homicide low for New York City in the modern era (that is, the "era" of CompStat, the crime-tracking system that the NYPD has been using since 1994) was 333 in 2014. The record high homicide figure in New York City history was 2,245 in 1989.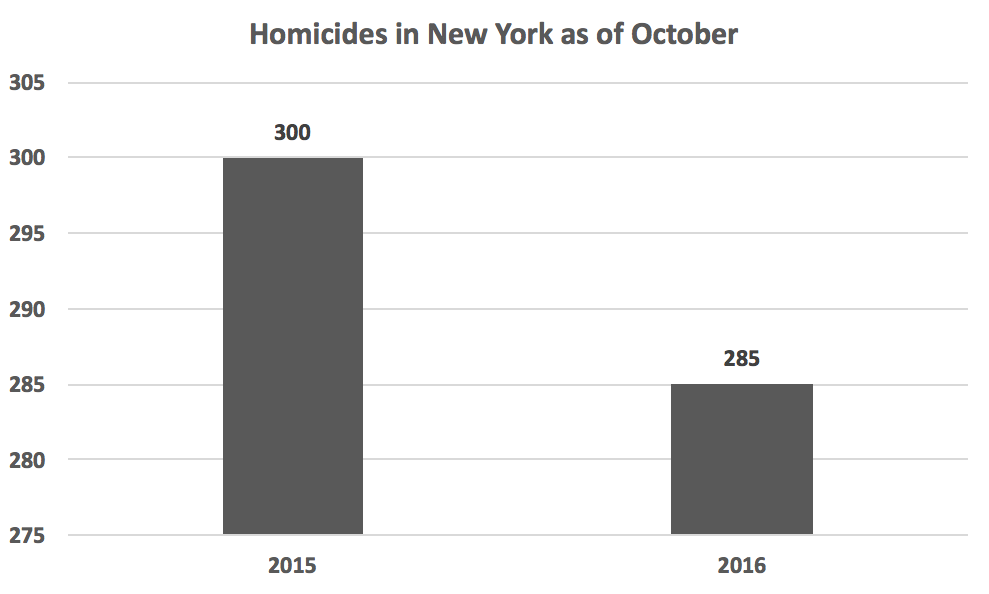 The number of serious crimes has never dropped below 100,000 in New York City in the CompStat era. As of October 30, however, the number of serious crimes in the city in 2016 stood at 84,064. (In 1993, the city recorded a record high 430,460 serious felonies.) There were 242,470 arrests in New York City in the first nine months of 2016, a drop of 7.4 percent from 2015 and the lowest level recorded in the CompStat era. Misdemeanor arrests declined by 6.7 percent and violation arrests were down by 55 percent, according to the Wall Street Journal.
WHY IS CRIME DROPPING IN NEW YORK CITY?
Mayor de Blasio told the Huffington Post that the lower crime statistics in the five boroughs are linked to an increased focus by the New York Police Department on getting guns off the streets. The NYPD seized over 800 guns in just the first three months of this year, more than a 15 percent increase in weapons seizures over the first quarter of 2015. Firearms-related arrests in the city are also up by about 13 percent this year. Since the start of 2014, New York City has seen a total decrease of more than five percent in crime incidents across all major crime categories combined, the mayor said.
Mayor de Blasio added that the dropping crime rate is "an extraordinary testament to the consistency of the progress that the NYPD has made. I remember vividly what things were like in this city when we had over 2,000 murders a year, when even walking down a busy street you had to look over your shoulder. I remember how life was, how many people left because they thought this city couldn't possibly succeed. Well, the NYPD turned that around."

NYPD spokesman Stephen Davis told Newsday, "if the trend continues, we very well may be in for a record year." Richard Aborn, speaking for the Citizens Crime Commission, said the crime trends in New York City so far in 2016 were "remarkable." Aborn attributed the declining crime levels to the New York Police Department's "precision policing" approach, which concentrates resources and manpower on finding "bad actors and getting them off the street."
WHAT IS NEW YORK DOING THAT OTHER CITIES ARE NOT DOING?
Whether it's precision policing or something else entirely, what's clear is that the NYPD is apparently doing something right that is not being done in other cities. People are being shot in Chicago, for example, in disturbingly high numbers: 3,500 shootings were reported in Chicago through mid-October, a thousand more than at the same time last year. It took only until the end of Labor Day weekend for Chicago to have more homicides this year than it did in all of 2015. Chicago's homicide total has surpassed 600 for the first time since 2003, with two months remaining in 2016.
This year, Chicago could see the city's highest homicide toll in nearly two decades. Yet, on a per capita basis, Chicago's gun violence epidemic is not nearly as severe as the violence in many other large U.S. cities. Chicago's homicide rate over the last five years was 16.4 per 100,000 residents. In New Orleans and St. Louis, for example, the homicide rate from 2010 to 2015 was three times that high on average. And in Las Vegas, at the end of September, there had been 125 homicides – a 27 percent increase over the same period in 2015.

The national murder rate had declined sharply for two decades until 2015, when the murder rate across the U.S. jumped nearly 11 percent – the largest single year increase in nearly half-a-century. Data published in September by the New York Times confirms that murder rates rose substantially in 25 of the largest cities in the United States in 2015, and it's expected to keep climbing. The Brennan Center for Justice at the New York University School of Law predicts an increase in the national murder rate of 13.1 percent this year over 2015, and an increase of 31.5 percent over 2014.
IS THERE A SINGLE EXPLANATION FOR RISING OR FALLING CRIME RATES?
While news about the murder rate nationally is disheartening, the declining murder rate in New York City is great news for the city's residents and visitors. Still, more than 240,000 arrests were made in the five boroughs in the first nine months of 2016, and every one of those suspects will need the services of an experienced New York or Long Island criminal defense attorney. If you're accused of a crime in New York, don't try to act as your own attorney. The law is too complicated, too much is at stake, and although crime rates are declining, the penalties for a conviction in this state can still be quite harsh.

Crime figures are like ink-blot "Rorschach" tests – people see what they want to see in crime statistics, and no two people see precisely the same thing. A New York or Long Island criminal defense attorney would probably say that there is simply no single explanation for the reduction in crime locally in New York City or the rising crime rate nationally. No matter how closely you examine the figures, no single pattern or answer emerges, and there's always another factor to consider. For now, with crime continuing to decline in New York City, it is probably best for the NYPD simply to keep doing whatever it is they're doing.