The New York City Department of Parks & Recreation Department supervises nearly 30,000 acres of parks and recreational facilities – almost fourteen percent of the land in New York City. The Department manages more than 5,000 properties, mostly parks, but also monuments, beaches, and public golf courses. New York City's parks routinely offer free concerts, world-class sports events, and cultural festivals for the city's millions of residents and visitors. Unfortunately, however, not everything that happens in the city's parks is relaxing or entertaining.

Murders, rapes, and other major crimes are on the rise in New York City's parks. Violent crimes rose dramatically in city parks in the nine months through March 2016, compared with the same period the previous year, according to a report released in August by NYC Park Advocates. For the nine months ending in March, there were 417 major crimes in the city's one thousand biggest parks, a 23 percent increase over the 340 crimes reported in the same period last year. The report was issued only a week after a 30-year-old jogger, Karina Vetrano, was found dead in a marsh in Spring Creek Park in Howard Beach, Queens.
With high-profile crimes in the city' parks – and articles about rising crime in the parks in the New York Times and the Wall Street Journal – it's certain that law enforcement will increase its monitoring of the city's parks and will be making more arrests. Anyone arrested and charged with a crime in New York City or on Long Island – whether the person claims to be innocent or guilty – should contact an experienced Long Island criminal defense attorney to obtain legal assistance without delay.
WHICH NEW YORK CITY PARKS ARE THE MOST DANGEROUS?
"More than a person a day is the victim of a violent crime in a city park," Geoffrey Croft, the founder of NYC Park Advocates, told the Wall Street Journal. NYC Park Advocates, the community group Mr. Croft founded in 2003, conducted the crime survey using statistics provided by the New York Police Department. "It's a bad omen," Mr. Croft said. "It shows a lack of priority in dealing with this." The five parks with the most major felonies from April 1, 2015 through March 31, 2016 were: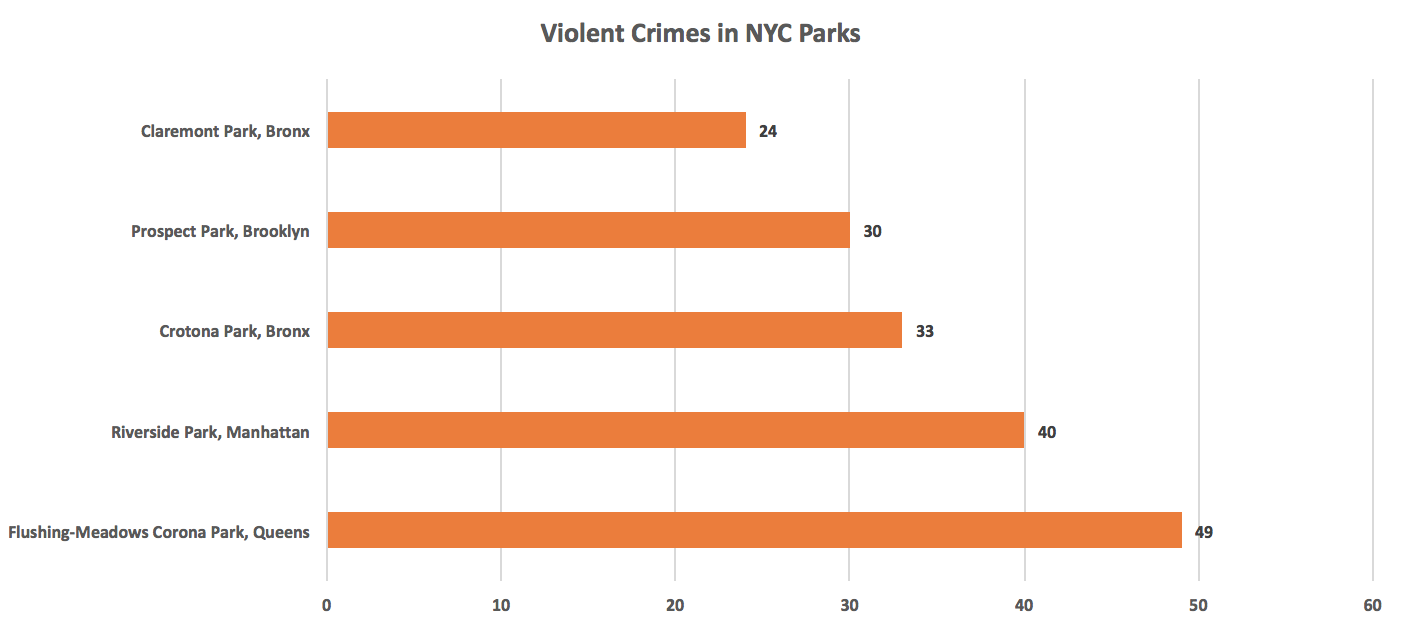 New York Police Commissioner Bill Bratton said, "The parks in the city are heavily utilized so some of the victimization you're seeing is reflective of many of the larger number of people in the parks," he said. "But the overall numbers are still very, very small." New York City Councilman Rory Lancman, who grew up in Queens and represents part of the borough, was not surprised by the crime numbers. He told NBC 4 New York that, "For many years, Flushing-Meadows Corona Park has kind of been the forgotten stepchild of the New York City parks system. Our crime rates have always been relatively high compared to other large parks."
ARE THE PARKS REALLY THE "SAFEST" PLACES?
The statistics do not include Central Park, which has its own police precinct. Although violent crime in New York City parks has been on the rise for over a year, "Crime in city parks is less than one percent of all reported crime in New York City during that same period," NYPD spokesman Lt. John Grimpel told the Wall Street Journal. "City parks represent fourteen percent of New York City's land mass, which makes them one of the safest places in the city and the country."
Mr. Croft, however, says it is the increasing frequency of violent crimes in the parks of New York City that worries him. "If you don't have an adequate police force to patrol parks, it's a recipe for disaster," he told NBC 4 New York. "You're inviting the public into parks, but you're not providing adequate security – and that's what we've seen from this enormous spike in violent crime."

From July 2015 through March 2016, there were six murders in New York City parks, and fourteen rapes were reported. According to police department data, there were also 254 people robbed and 143 felony assaults in the city's parks in those months. In the same period the previous year, there were ten murders, two rapes, 221 robberies, and 107 felony assaults in the city's parks, according to Mr. Croft's findings.
In Crotona Park, for example, which covers about 120 acres in the Claremont neighborhood in the Bronx, there were 33 violent crimes reported in the twelve months through March 31 of this year, according to the NYC Park Advocates report. "There's certain areas of the park [with] poor lighting and that's how you become a victim," Will Green, a 28-year-old Bronx resident, told the Wall Street Journal. "You get stabbed, shot, or most likely jumped from behind."
SHOULD YOU BE WORRIED ABOUT CRIME IN THE PARKS?
Should you be worried? Perhaps not. The statistics still point to fewer than one crime per city park per day, and the city's parks are now frankly far safer than they were in the 1970s and 1980s, thanks to the NYPD and an assortment of community groups. Should you be vigilant? Of course. The average person's sense of safety is not based on statistics anyway. It's high-profile crimes like the murder of Karina Vetrano that set the tone and attitudes regarding our use of New York City's parks.

Anyone accused of committing a crime – in a park or anywhere else in New York City or on Long Island – should obtain legal help as quickly as possible by speaking with an experienced Long Island criminal defense attorney. When you and your family enjoy the city's parks, stay vigilant. Especially after dark, stay in lighted areas, bring a flashlight, and wear light-colored clothing that does not bring attention to yourself. Stay where others can see you, and report any crimes if you become a witness or a victim. New York City's parks are the world's greatest, and with everyone in New York working together, we can keep them that way.